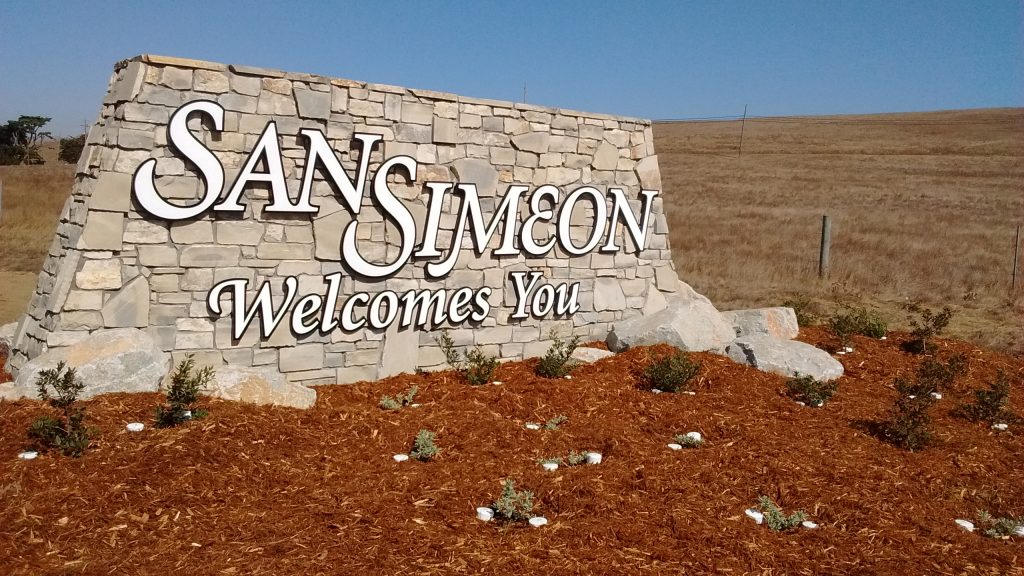 San Simeon, located halfway between Los Angeles and San Francisco on California's Central Coast, offers drivers many reasons to stop and stay a while. San Simeon provides endless opportunities for outdoor recreation, family friendly activities and unique cultural experiences.
It's the perfect place to escape the big city, unplug and reconnect with yourself and loved ones. But if the idea of disconnecting from technology terrifies you, don't worry – you can still make your friends envious on social media!
For those whose idea of heaven is getting out into nature, San Simeon offers many ways to enjoy the great outdoors:
Day One: Wild-Eyed Wonder
San Simeon is home to 17,000 animals, offering many opportunities to commune with wildlife. You can spy on rare elephant seals at one of the few places in the world to see them. Likewise, bird enthusiasts will marvel at the 550 species of birds that call San Simeon home. Additionally, it's one of the few places across the globe featuring the same avian diversity and range.
Morning:
Elephant Seals and Historic Lighthouse
Get a glimpse of the enormous and unique northern elephant seal at Piedras Blancas rookery just six miles north of Hearst Castle. At 5,000 pounds with a large elephant-like nose, viewing the males is an eye-popping experience. Coupled with watching the females – which are much smaller at up to 1,800 pounds – care for their adorable pups is a heartwarming experience. Although a few can be seen throughout the year, the majority spend most of their lives at sea, coming ashore only to mate and care for their young. December through March the park's elephant seal population swells to 17,000 to breed, providing a jaw-dropping spectacle.
While in the area, don't miss the historic Piedras Blancas Light Station. Located on a windswept point of land north of San Simeon and built in 1870s. Standing sentinel over the region at 70 feet in height, the Piedras Blancas lighthouse boasts a modern marine aero beacon at the top.
Afternoon:
Lunch at Ragged Point Inn
Offering spectacular views, Ragged Point Inn has diverse options for dining. For a casual lunch on the go before birdwatching, we recommend the Sandwich Stand, which has a full selection of classic American fast food, made to order. Enjoy one of our famous burgers, a hotdog or sandwich, fries, and a shake. Fresh salads, homemade soups and chili, fried chicken and chips, fish and chips are also available. On a summer weekend, you can enjoy local musicians perform free of charge.
Bird Watching
After lunch, watch nature take flight at one of two places to go birdwatching:
Bird Watching on the Beach
San Simeon beaches are teaming with wildlife and offer a fantastic place to see several birds that call this habitat home. Here, brown pelicans, gulls, terns, snowy plovers and sandpipers can be seen all year long. In addition, cormorants can be seen in spring.
Inland Bird Watching
Further inland, the plateau at Washburn Primitive Campground provides opportunities to see red-shouldered and red-tailed hawks, kestrels, western bluebirds, quail, great horned owls and the western meadowlark. Hawks and turkey vultures are seen as they soar overhead. Additionally, great blue herons, egrets, mallards, cinnamon teal, harriers, killdeer, goldfinches and kingfishers are plentiful in the area as well.
Download the SeaPhoto iPhone App, which features more than 1,300 high-quality photos of more than 550 species—including seabirds and shorebirds—in the area.
Evening:
Hotel Check-In
Check into one of San Simeon's diverse accommodations, from rustic campgrounds and quaint roadside inns to full-service hotels with ocean views. Click here to find and book the right property for you.
Dinner at Manta Rey Restaurant
Located two miles from Hearst Castle with stunning views of the coastline and the evening sunset, the Manta Rey Restaurant serves the freshest seafood, highest-quality steaks, decadent desserts and wide variety of local wines. Owner Miguel De Alba works personally in the restaurant serving to ensure warm hospitality.