Elephant seal season is in full swing in San Simeon as the females are coming to shore to birth their pups and then mate. Starting at the end of January, San Simeon's Coastal Discovery Center will hold Northern Elephant Seal presentations throughout March.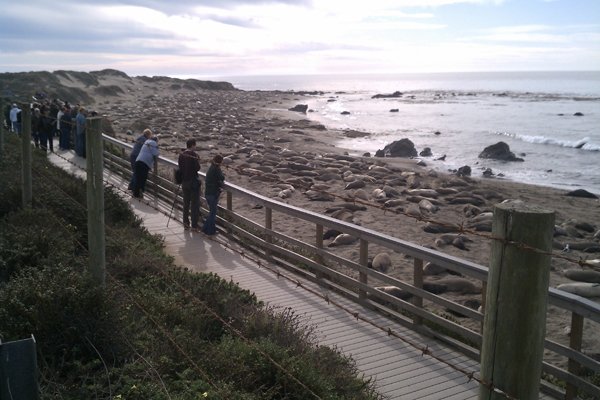 The elephant seal rookery at Piedras Blancas is a dramatic and interesting place to visit year-round. Come join elephant seal expert and presenter, Phil Adams to learn about the amazing life of the Northern Elephant Seal on land and at sea. After the presentation, you will be able to drive to the elephant seal rookery viewing area only 4.5 miles north of the Center which is manned by knowledgeable docents from Friends of the Elephant Seal.

Participants will meet at the Coastal Discovery Center in San Simeon (across from entrance to Hearst Castle Visitors Center, by the pier) each Saturday, January 20 through March 10, from 10-10:45am.
Dates of Presentations:
Jan. 20- 10am
Jan. 27- 10am
Feb. 3- 10am
Feb. 10- 10am
Feb. 17- 10am
Feb. 24- 10am
March 3- 10am
March 10- 10am
*Reservations required, as space is limited. Call 805-927-2145 to reserve a space. Please leave your phone number.