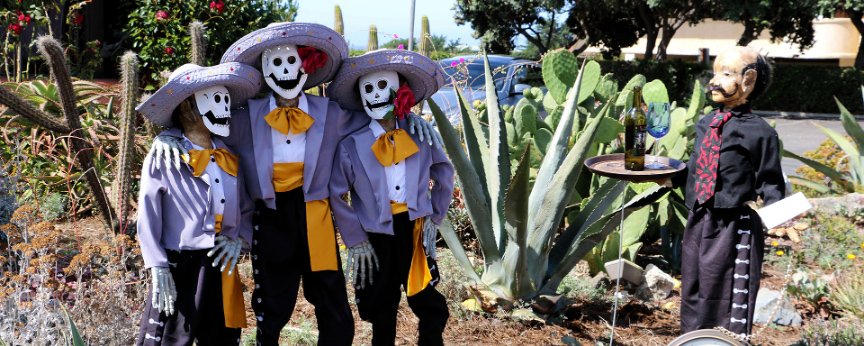 For the entire month of October, scarecrows can be seen on display in the coastal towns of San Simeon and Cambria, spreading harvest cheer. The annual Scarecrow Festival showcases the artistic communities on the coast, with hundreds of themed scarecrows taking over the towns. Some scarecrows are silly, while others are scary (San Simeon's theme is zombies!), but all are sure to delight. This year's festival has taken the shape of a Scarecrow Walk, encouraging visitors to enjoy Fall on the Central Coast – safely – with outdoor displays easily enjoyed while practicing physical-distancing and wearing of masks.
"I think of any year in my whole life that people need to have some smiles, it's this year. And these [scarecrows] can't help but make you smile," said the festival's president Paula Ufferheife to KSBY. We couldn't agree more!
Visit the Zombie Voting Rally by San Simeon Beach Bar & Grill, where you will find Maude running for Mayor of Zombieville surrounded by her spooky constituents. After viewing the scarecrows in San Simeon, venture to our neighboring town of Cambria, where you will find four other displays featuring favorite movie characters, Day of the Dead celebrations and more. For a map of all five scarecrow displays locations, please click here.
Be sure to snap a picture of the scarecrows and tag @VisitSanSimeon on social media! We can't wait for you to visit.