Rusty Moore Elephant Seal Docent
Volunteer Docent, Class of 2013
Q: How did you become interested in serving as a docent for the Friends of the Elephant Seal? How long have you been a docent?
A: After moving to the central coast six years ago, I heard about the rookery and began to visit it regularly. On one occasion, a docent encouraged my wife and I to become docents.
Q: What is the most valuable piece of information you have learned about the Elephant Seals?
A: I have learned that all life is important to the ecosystem and dependent on human consideration and support for future survival.
Q: What is the most common or popular question you receive?
A: Why do they choose to visit our specific stretch of beaches?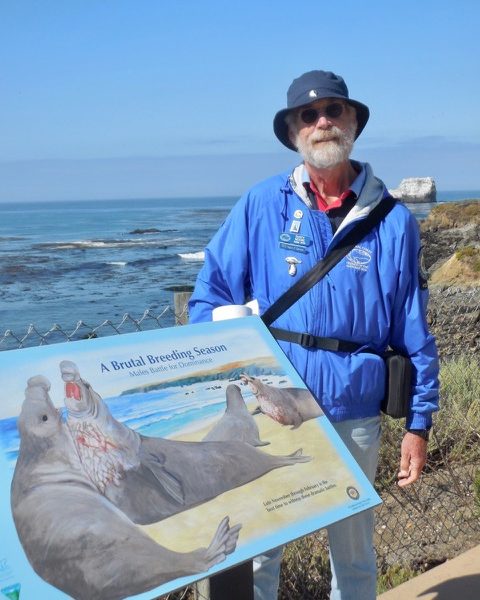 Q: What is your favorite thing to teach visitors about the San Simeon Elephant Seal?
A: I emphasize the elephant seals' unique adaptations for survival as a marine mammal.
Q: What is the question you wish tourists would ask?
A: What can I do to preserve the marine environment for the health and safety of all life?
Q: How many people do you guide/interact with on average?
A: I average four, four-hour shifts per month. However, I also volunteer for school visits, which can take less than a full four-hour shift. On a regular shift, I often talk to over 100 visitors.
Q: Why is your role as a docent so important in fulfilling the mission of the Friends of Elephant Seal?
A: Expanding interest and education about elephant seals keeps their safety and well being in the public eye. It also gets both young and old to support their continued success by protecting these animals and their habitats.
Q: What has been the most rewarding part of being a docent?
A: Experiencing the wonder and excitement of first-time visitors as they learn details about these special and unique marine mammals.
Q: What are some of the critical milestones you've seen over the last 20 years since the Friends of the Elephant Seal (FES) was founded?
A: The relocation of the coast highway, the building of the parking lots, the building of the protected viewing areas and boardwalks all were key milestones.
Q: What's a secret fact about elephant seals that not many people know? Or something you wish more people knew?
A: I try to emphasize to young people that we know very little about where the weaners go and what they do their first year at sea, and that they could help with that research someday.
Q: What else would you like to share about your role as a docent?
A: I strongly believe that the time and effort required to become a docent is rewarded every time I see the gratitude of an excited visitor.