Overview:
Read the most up-to-date information on COVID-19 closures, here.
Elephant Seal Viewing
The Piedras Blancas Rookery is the only elephant seal rookery in the world that is easily accessible, free, and open to the public every day of the year. No reservations are needed. The rookery is located seven miles north of San Simeon on Highway 1.
Parking
The Elephant Seal viewing area has plenty of parking. The dirt lot can accommodate vehicles of all sizes, including RV's and trucks.
Viewing Seasons
Elephant Seals haul out on beaches near San Simeon year round, as they go through different phases in their life cycle. In peak times, there are up to 17,000 animals on the San simeon shores. There are three peak times of the year that have large populations of seals - January, April, and October.
Males Arrive for Mating Rights
Starting in November, adult male elephant seals start to arrive on the shore. Adult males will stake claim to female pupping areas on the beach. When another adult male challenges a pupping location, a fight for dominance ensues. Adult males will fight for mating rights from December through January. Elephant seal bulls can reach 16 feet in length and weigh up to 5,000 pounds. Watching these enormous animals fight for dominance is quite a spectacle.
Birthing and Breeding Season
From December through March, female elephant seals arrive on the beach to give birth. Pregnant females begin to arrive in December with the majority of expecting mothers arriving in January. Births will typically occur a few days after arrival. Elephant seals pups are typically born at night and weigh about 60 pounds at birth and can weigh as much as 300 pounds at weaning. During the last week of nursing her pup (about 24 days), a female will mate with the alpha bull. Once she has mated, the female will typically go to sea and leave her pup behind. Pups are left alone to learn to swim and find food. Most pups are ready to depart for the sea in March and April.
Molting Season
Starting in April, females and juvenile elephant seals return to the shore to molt. The molting season lasts four to six weeks. Most females and juveniles are back in the water by the end of May. In June, subadult and adult males arrive to begin their molt. By August, the males have mostly completed with their molt. The shore has the least amount of animals in August. The majority of the animals seen in late summer are large adult males.
Haul Out Preparation
From September through October, females and sub-adults arrive on the shore to prepare for the fall haul-out. This period is another peak of animals on the beach.
Typical Viewing Experience
Elephant Seals are seen year-round at the Piedras Blancas Rookery. Best times of year to see these amazing animals in action are October through May with the big show (birthing and breeding) in January and February. Come see these magnificent marine mammals up close on one of the prettiest coastlines in California.
Viewing Guidelines
Ensure a safe and pleasant viewing experience for everyone by following NOAA's marine wildlife viewing guidelines.
Friends of the Elephant Seal
Meet the docents in our docent profile series.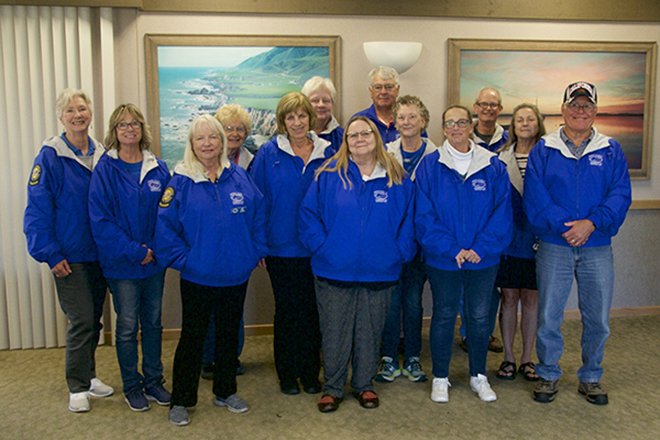 The Friends of the Elephant Seal are available to answer questions at the viewing areas from 10am to 4pm daily. Look for the blue jackets to find a docent. Docents and the information they share will enrich your viewing experience.
The Friends of the Elephant Seal Visitor Center and Gift shop is located in the Cavalier Plaza, right next to the Chamber of Commerce at 250 San Simeon Avenue, Suite 3B. They're open every day from 10:00-2:00. Stop in and check it out.
Stewardship Travel
Stewardship Travel is your getaway to 'Ah-Ha' moments on vacation through activities and charitable donation opportunities that protect wildlife, habitat, and cultural heritage sites. Gain a deeper connection while on vacation with this amazing stewardship program.
This activity selection includes:
*A learning activity and/or outing
*A conservation/heritage donation opportunity through Friends of the Elephant Seal
Thank you for being a Stewardship Traveler along the Highway 1 Discovery Route.
Features and Amenities
Beaches
Free Things To Do
Hikes, Guided Walks & Boardwalks
Kid Friendly
Must-See Spot
Outdoor Activities & State Parks
Stewardship Donation Opportunities
Stewardship Travel Activities