Winter is the best time in San Simeon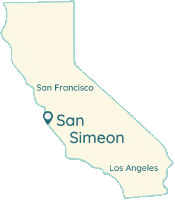 Events
Plan your next trip around one of San Simeon's special events.
December 17 -

23, 2017

Cambria Christmas Market at Cambria Pines Lodge

Cambria Pines Lodge is excited to announce the Cambria Christmas Market, an event which will be hosted on the grounds of the Lodge. The Market will be held November 24th through December 23rd. The Market will be closed on November 27th and 28th, as well as December 4th, 5th and 11th.

Cambria Pines Lodge will continue its great tradition of spectacular lighting displays throughout the gardens and on the Main Lodge building. In addition, the pathway that leads to Cambria Nursery and Florist will host the Christmas Market, a festive ongoing event in the style of Germany's Christmas markets. There will be food booths, musicians, and vendors selling locally made items.

December 17 -

31, 2017

Period of Adjustment at Pewter Plough Playhouse

As descibed in the NY Times: "Mr. Williams is telling the story of two marriages at points of acute crisis. One couple has just broken up after five years together. The other has not been able to come to terms in one day of wedlock. Both couples are living through a period of adjustment. The phrase is tinged with irony. The play examines the sources of the crises. Ralph Bates, a former war hero, has in-law trouble. George Haverstick, a way buddy who unexpectedly visits him on Christmas Eve with his bride of a day, has the shakes; dis difficulty seems to be a fear of impotence."



December 17 -

30, 2017

Hearst Castle Holiday Twilight Tours

Experience Hearst Castle in all its yuletide splendor. Spend an evening in the nostalgia of a bygone era.

The Holiday Feast banquet recreates the glamour of those heady times when the movers and shakers of the day gathered in William Randolph Hearst's hilltop home of a taste of the truly good life: fabulous food and wine, good company, spirited conversation and great entertainment.
Book Direct
Call to receive the best deal for your stay in San Simeon.