Overview:
Welcome to The Monterey Bay National Marine Sanctuary! Also known as the "Serengeti of the Sea," this impressive nature reserve is one of the top wildlife viewing sites in the world. Home to some of the Pacific Ocean's most diverse inhabitants, the 276-mile stretch makes up nearly a quarter of California's coastline. In fact, the area is even larger than Yellowstone National Park, protecting 6,094 square statute miles overall. Here you'll find 36 marine mammal species, more than 180 seabird and shorebird species, at least 525 fish species, over 450 marine plant species, 31 invertebrates and 4 turtle species. Often found migrating up and down the coast, the sanctuary allows for optimal wildlife viewing throughout the year.
Coastal Discovery Center
The Coastal Discovery Center serves as the ultimate visitors center and starting point for your marine life exploration. Established by the Monterey Bay National Marine Sanctuary and California State Parks, this research and education center is focused on helping protect marine wildlife through awareness and education. Free to the public, the Coastal Discovery Center offers a unique opportunity for families to learn about local marine life and how to preserve it for generations to come. Discover the past, present and future of San Simeon and its wildlife with exhibits, events and hands-on activities that all ages can enjoy. From there, follow the Coastal Discovery Trail which will guide you along to the best coastal locations, experiences and attractions.
Watch More About The Coastal Discovery Center
Marine Protected Areas
Piedras Blancas is home to both a Marine Conservation Area and State Marine Reserve. These titles provide the area with increased protection of the state's marine life, habitats, and ecosystems by limiting fishing within its boundaries. These Piedras Blancas marine protected areas encompass a rich shoreline known for its tidepools, diverse birds and marine mammals. The area also hosts the famed Piedras Blancas Elephant Seal Rookery where you can observe elephant seals year-round and the historic Piedras Blancas Light Station.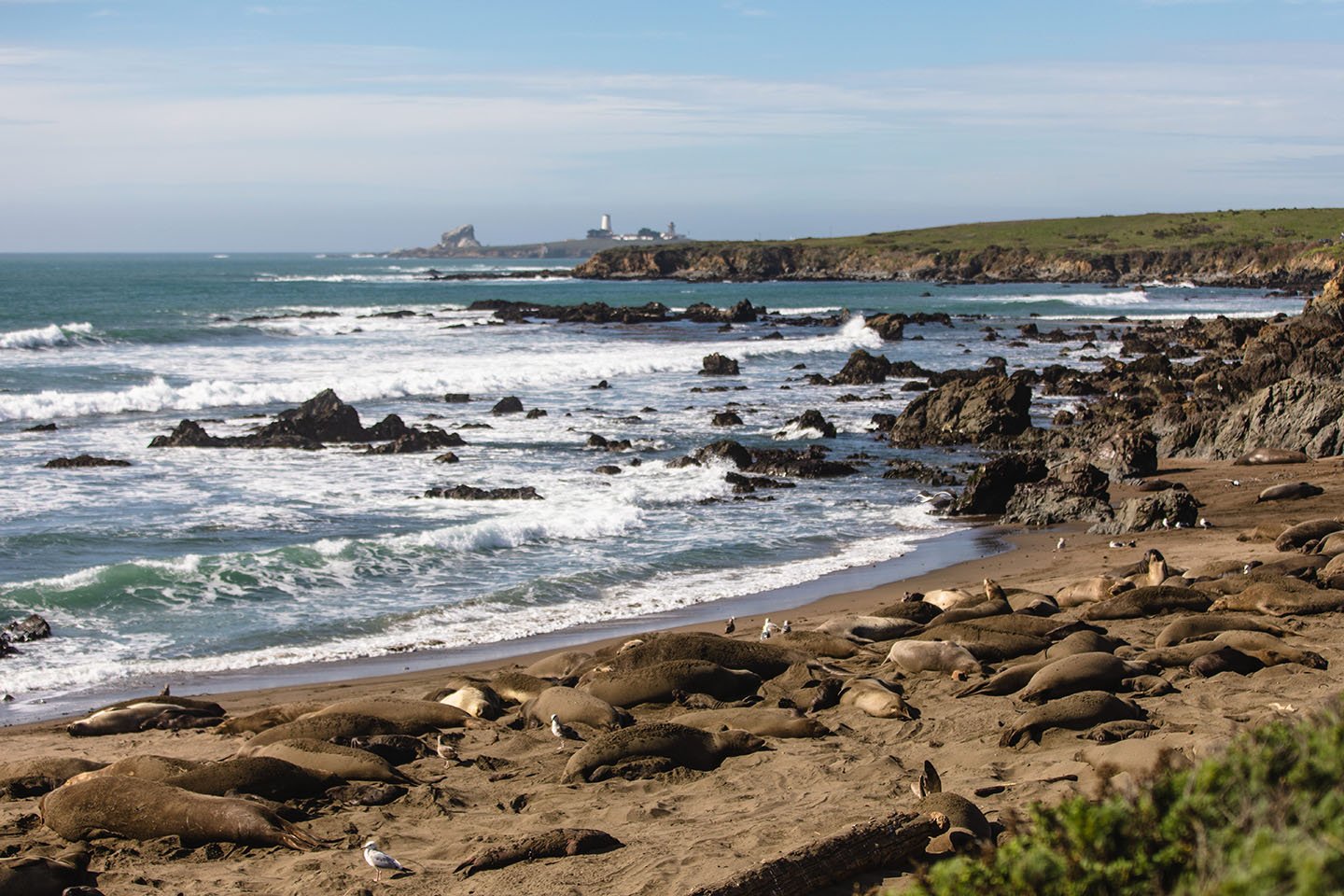 Davidson Seamount
The Davidson Seamount is an undersea mountain habitat off the coast of Central California between San Simeon and Monterey. It is one of the largest known seamounts in U.S. waters, reaching an impressive 26 miles long, 8 miles wide, and 1.5 miles tall. Nicknamed the "Oasis of the Deep," this massive but extinct volcano is home to diverse deep-sea coral forests, vast sponge fields, crabs, fish, shrimp, and a collection of rare, unidentified marine species. Because of this, the area has special national significance relative to scientific research and ecological conservation efforts.
Big Creek State Marine Conservation Area and State Marine Reserve
The Big Creek State Marine Conservation Area and State Marine Reserve are two adjoining marine protected areas just off the shore of San Simeon and Big Sur. This area protects miles of California's central coast and the marine life that inhabit it. Here, the waters are particularly known for sea otters which use the area to forage for food, as well as a variety of deepwater rockfish. While Big Creek itself is closed to the public, you can view this picturesque area from Julia Pfeiffer Burns State Park or Limekiln State Park off of Highway 1.
Serengeti of the Sea
Whale Watching
If you're looking to whale watch, the San Simeon Whale Trail is quite literally (tons) of fun. As you make your way along the coast, keep your eyes peeled for grey whales, blue whales, minke whales, fin whales, humpback whales, pacific right whales and sperm whales that migrate through the vast sanctuary waters. Historically, San Simeon was the site of shoreline whaling in the 1860s but today the population has recovered and the area is well known for its ideal viewing points. With its high vantage points and towering coastal bluffs, the Whale Trail viewing site off Highway 1 is equipped with telescopes for an optimal viewing experience.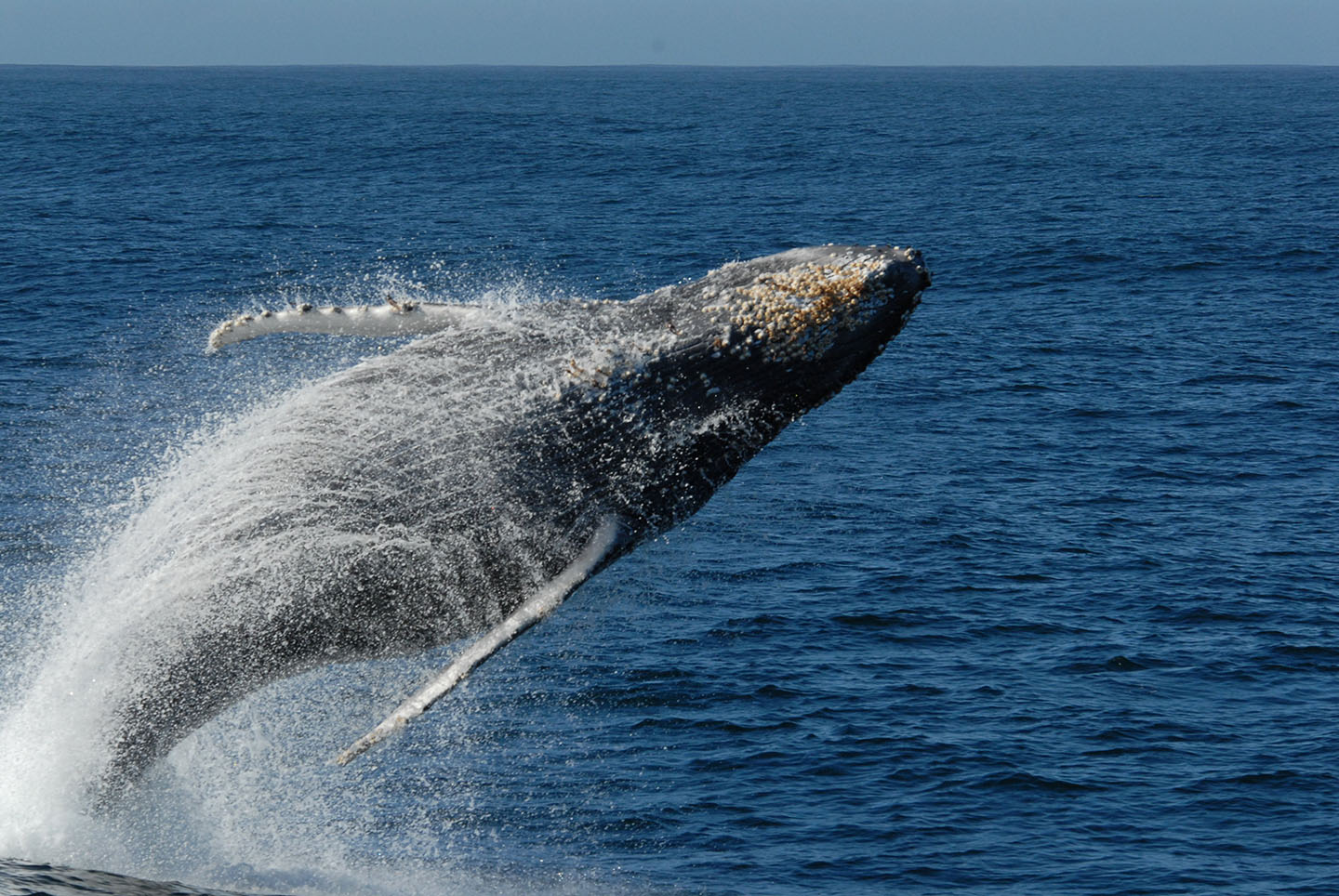 Photo courtesy of Dr. Mridula Srinivasan, NOAA/NMFS/OST/AMD
Octopus Garden
The Davidson Seamount within the Monterey Bay National Marine Sanctuary is home to over 60,000 known marine species, including one of the most mysterious deep-sea creatures - the octopus. Recent scientific research in the area has uncovered a unique environment near the volcanic seamount where thousands of female octopus brood. Here, female octopus lay their eggs within the nooks of a volcanic outcrop where they then protect and incubate the eggs, earning the area the name, "Octopus Garden."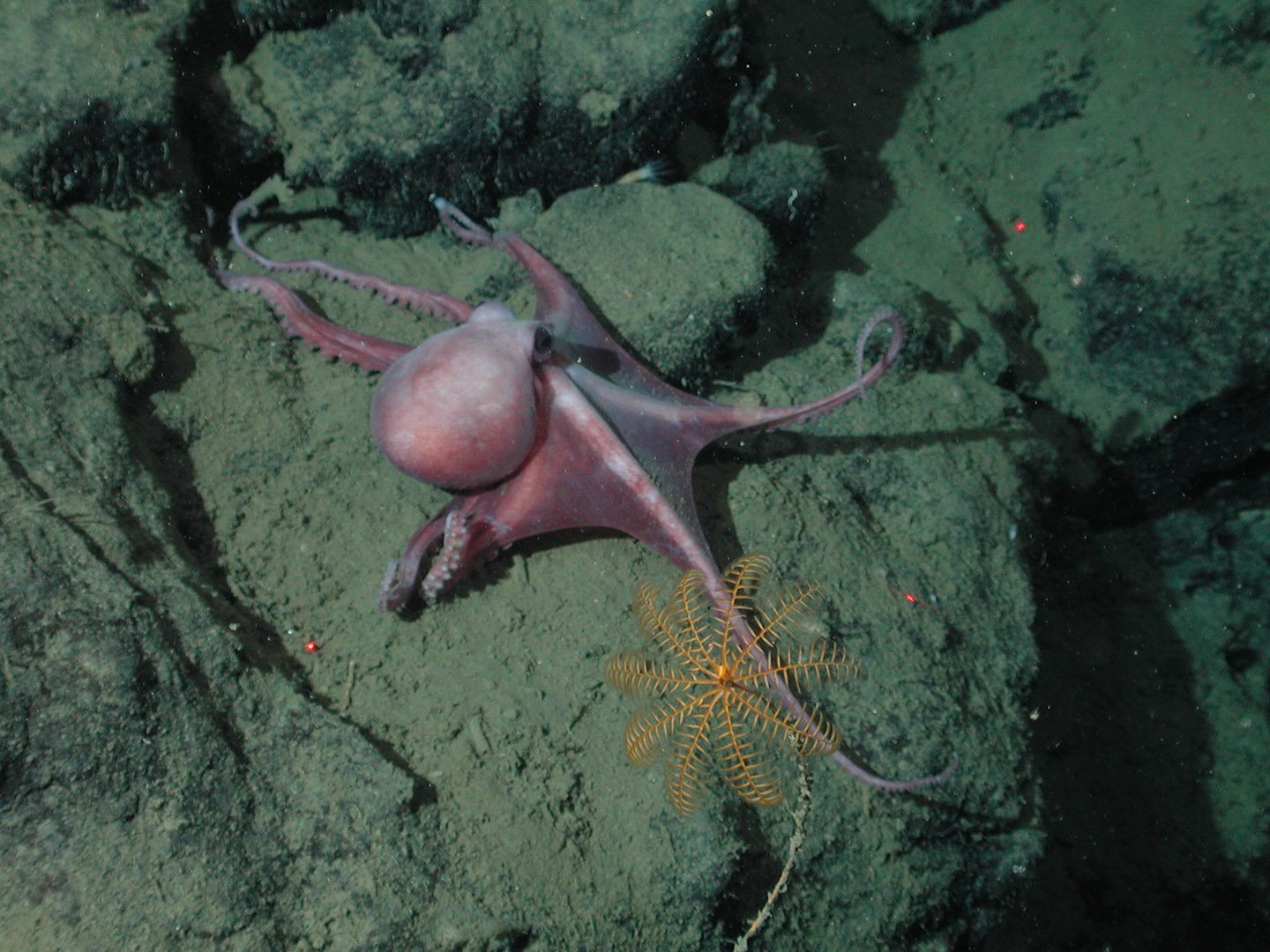 Photo courtesy of NOAA
Tidepools
All along the rocky San Simeon shores, tidepools come and go with the tide, leaving behind small underwater worlds just waiting to be explored. At low tide (usually in the early mornings and afternoons), these tidepools capture everything from small fish, to sea stars, and crabs providing the perfect opportunity for close up observation. Spend the day tidepooling with family and you will discover a whole new world of marine life right in their natural habitat.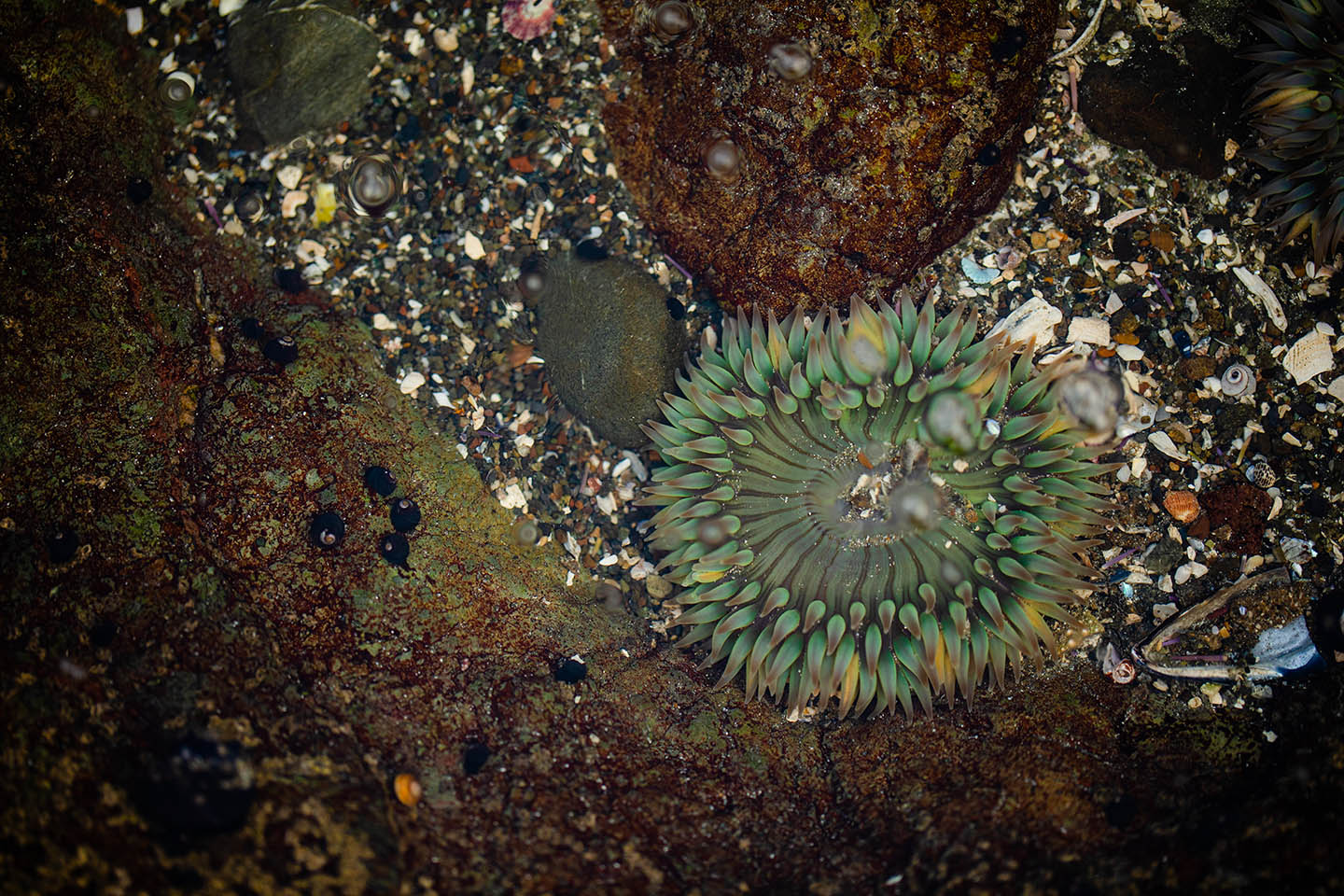 Largest Kelp Forest in the U.S.
Within the sanctuary, local species swim or fly over the largest kelp forest in the United States and one of the largest underwater canyons in North America. Extending along the coast this forest is not only significant in size but in its diversity as well, boasting over 20 species of kelp. This kelp not only serves as a vital food source for other organisms but also provides shelter for many forms of sea life.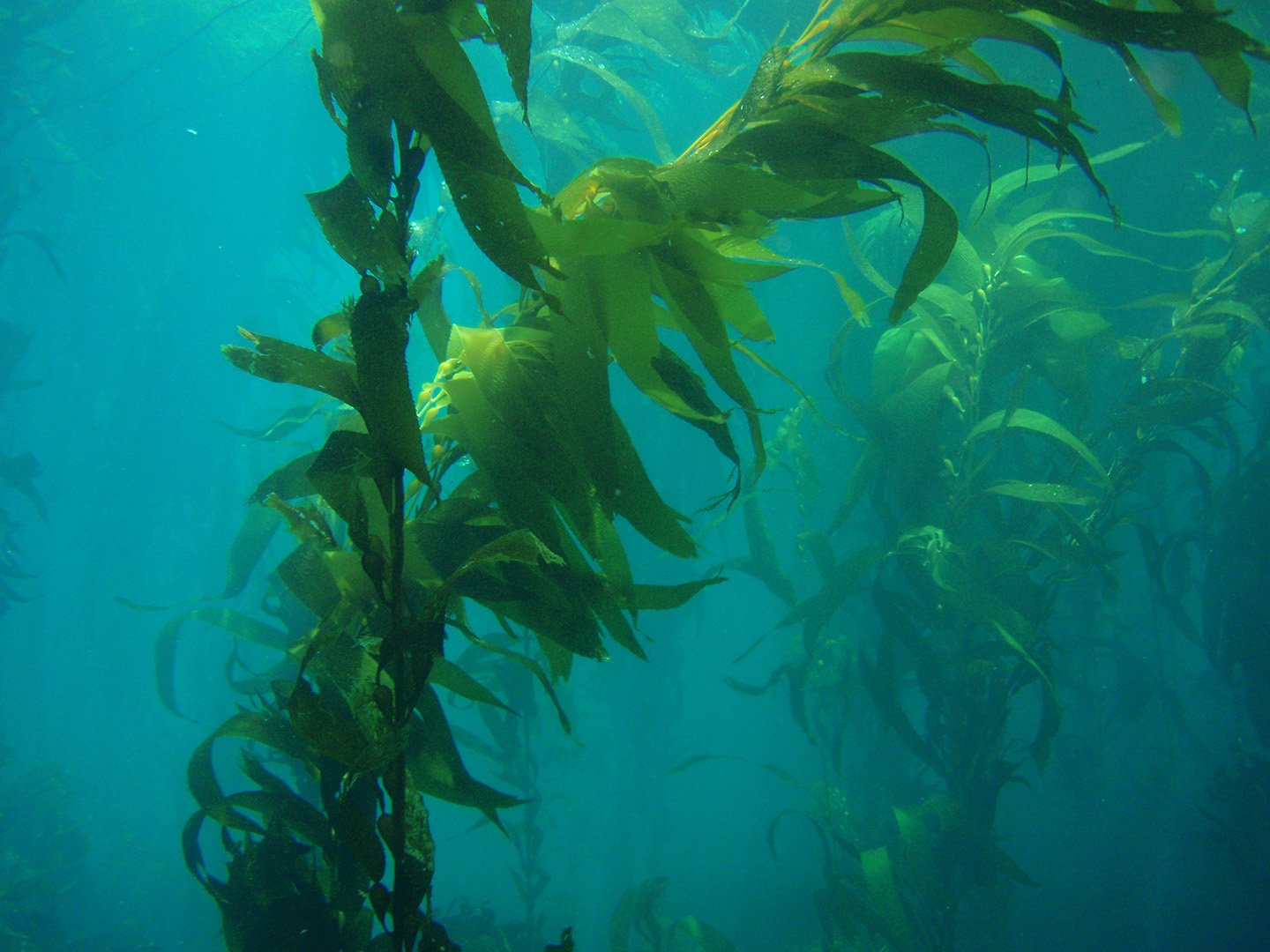 Photo courtesy of NOAA
Support Marine Life
Teeming with life, the Pacific Ocean is an ecological treasure trove. It is important that the riches found within remain protected. Do your part to support marine conservation with these helpful tips. To learn more about how you can get involved, visit the Coastal Discovery Center.
Preserve

- Leave the coast the way you found it. Do your best to preserve California's natural beauty by picking up trash and limiting physical disruption.

 

Conserve

- Be respectful of local wildlife. Keeping a safe distance from animals is important for your and their safety. 

Protect

- Educate yourself on the small steps you can take to protect sea life. This can be as simple as recycling or choosing non-plastic, reusable alternatives.