Overview:
Dive into a hands-on, interactive collection of exhibits showcasing Monterey Bay National Marine Sanctuary's presence off the coast of San Simeon. With the common goal to preserve and protect, the sanctuary teams up with California State Parks to bring awareness to San Simeon with the Coastal Discovery Center.
The Coastal Discovery Center celebrates the connection of land and sea through discovery, preservation and education. Collaborating with California State Parks allows the Coastal Discover Center to also feature the amazing Hearst San Simeon State Beach and pier within its exhibits.
Free to the public, the Coastal Discovery Center offers many mini activities to help its visitors better understand the sanctuary. A combination of automated games, murals, and other interactive exhibits include:
Coastal Discovery Center Education
History of San Simeon Bay
From San Simeon's Native Americans to a whaling station, immerse yourself in the area's rich history through a series of interactive touch screen exhibits.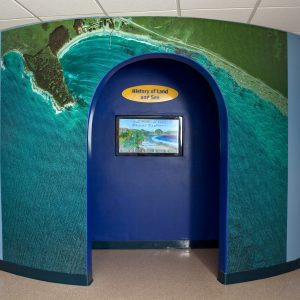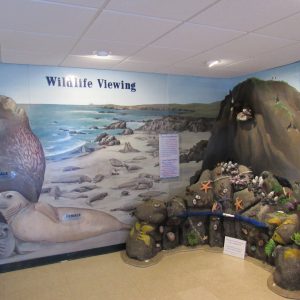 Wildlife of San Simeon
Test your hearing and try to differentiate the local elephant seal calls. Touch and discover the 3D rocky tide pool and wildlife mural that depicts the typical seabirds and mammals seen on San Simeon's beaches.
Delta Submarine Ocean Exploration
Learn about the extinct Davidson volcano and the nearby 1,276 shipwrecks that have been reported.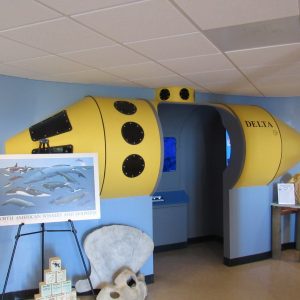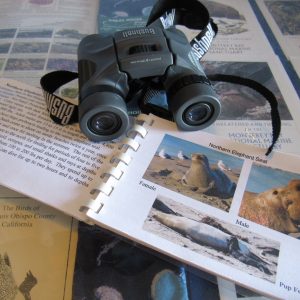 Plankton Ocean Exploration
Make your own microscope slide of a drop of seawater and get a glimpse into the tiny life in the ocean.
Delta Submarine Ocean Exploration
Watersheds – From the Mountains to the Sea
Follow the life cycles of Rainbow Trout and how to keep them healthy within their watersheds.
To learn more about San Simeon's role in the sanctuary's preservation, check out the Coastal Discovery Center's website.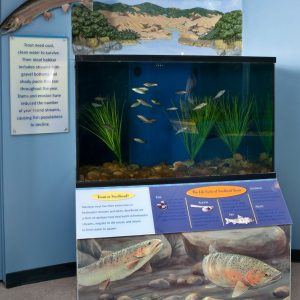 Features and Amenities
Beaches
Free Things To Do
History & Culture
Kid Friendly
Must-See Spot
Outdoor Activities & State Parks
Stewardship Donation Opportunities
Stewardship Travel Activities