Whether you are a hiker, biker, fisher, surfer or peace seeker, our stretch of coastline has something for you. San Simeon offers an abundance of open spaces to explore from green rolling hills to steep rocky cliffs to endless turquoise waters. So, what are you waiting for? Hop in your car and take a road trip to San Simeon. We have waves to surf, wildlife to watch, an enchanting castle to tour, mountains to summit, sea breeze to enjoy and vast coastline to adventure.
#HikeSanSimeon
Explore the beautiful coastal landscape by foot with scenic views around every corner. San Simeon has hikes for all ages and experience levels, so everyone can join in on the fun! Make it a family adventure or a solo trip to unwind in nature. For a list of trails, click here. 
#BikeSanSimeon
San Simeon is a biker's paradise ⏤ cool ocean breeze, breathtaking views and exciting discoveries around every bend for a memorable ride. Cruise down stretches of the coastal highway, ride along beach boardwalks or explore daring mountain biking trails.
#FishSanSimeon
Enjoy an epic day of saltwater fishing in San Simeon. Cast your line in from the public pier at William Randolph Hearst Memorial Beach where there is an abundance of fish all year long (fishing license is not required on the pier). Take to the water by boat or kayak to catch cabezon, lingcod, rockfish and much more. Or stay on the shore where surf fishing is popular year-round with common catches including barred surfperch and white croaker. The best times for fishing are Spring to Fall months. Learn more about fishing in San Simeon here.
#SurfSanSimeon
San Simeon, with its wide beach breaks and chest-high swells, is a surfer's dream. The waves are suitable for surfing, kite surfing, windsurfing and boogey boarding for pros and beginners. Get out into the water and enjoy the waves! For more on surfing, click here.
#TourSanSimeon
Check Hearst Castle off from your bucket list on your road trip to San Simeon. The enchanting estate is comprised of 165 rooms, 123 acres of gardens, terraces, pools and walkways, and unparalleled views.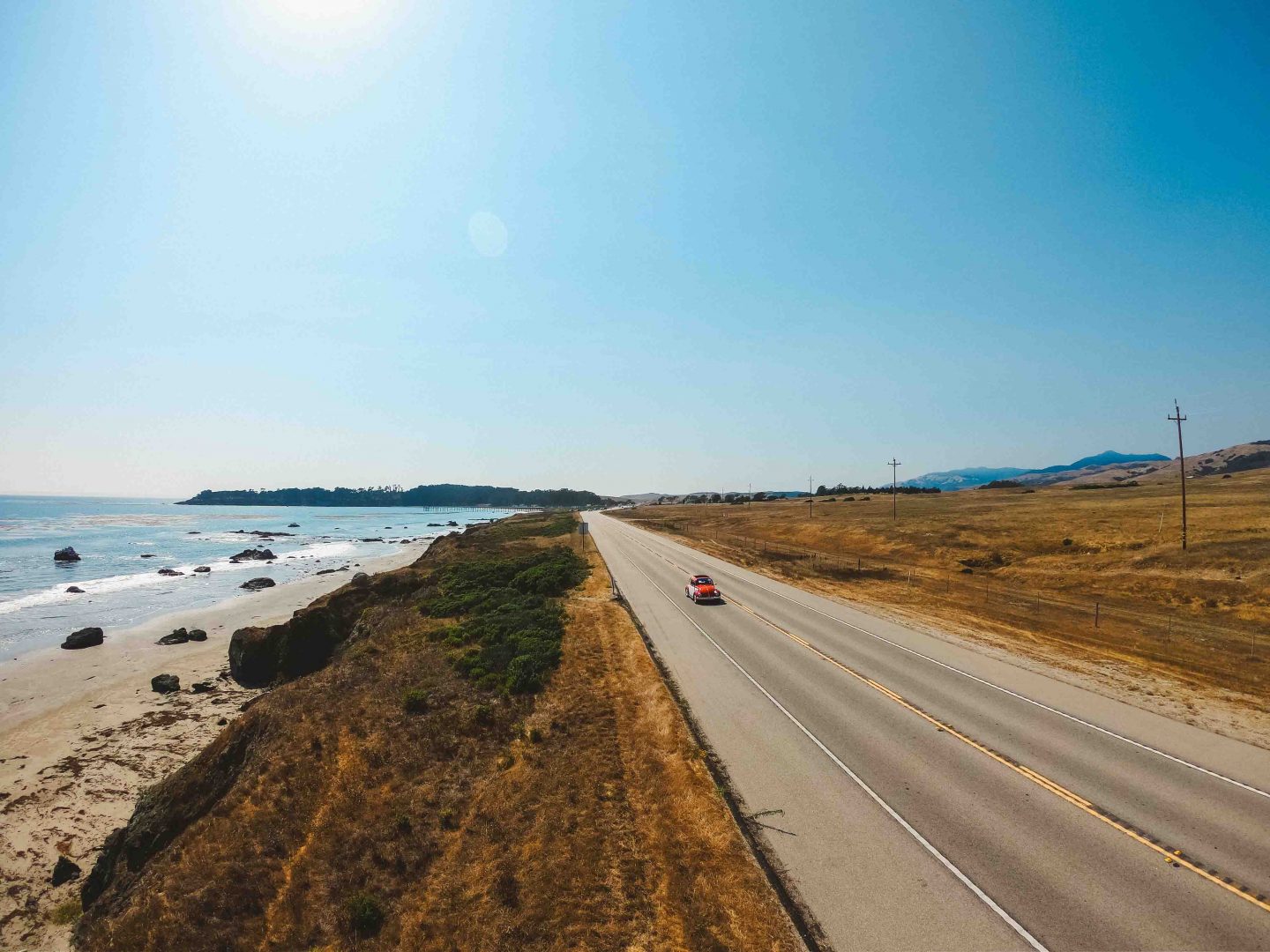 #SoloTravelSanSimeon
On our stretch of Highway 1, traveling solo connects you deeply with the ocean, wildlife, history ⎯ and yourself. Wander across secluded beaches, watch for whales off the San Simeon pier, kayak across the water and explore wide-open spaces. Make the most of your solo trip with Stewardship Travel for Good that will connect you even deeper with nature and San Simeon.
#SavorSanSimeon
If you're dreaming of a peaceful escape, look no further. Book a massage at the Diva Day Spa, enjoy a glass of wine at Hearst Ranch Winery's oceanfront tasting room and meditate on the uncluttered, gorgeous coast of San Simeon. Fill your days with stunning views of the Central Coast and fall asleep to the sound of waves as you relax in the quaint town of San Simeon.
#StaySanSimeon
San Simeon offers a diverse selection of hotels, motels, vacation rentals and camping sites that will fit your needs, all just steps away from the rugged coastline and pristine beaches. Whether it is a romantic getaway, solo adventure or family road trip, you'll find the perfect accommodations for you. For more on where to stay, click here.
#RoadTripSanSimeon
Take a road trip to the secluded, quaint town of San Simeon known for its' historic landmarks, wide-open spaces and breathtaking coastal views. Your adventure awaits!