If you are looking for a picturesque beach getaway or a spring-time staycation, look no further than the quaint town of San Simeon. This coastal gem will captivate you whether you are traveling solo or with the whole family - even the four-legged family is welcome! Now is the perfect time to get out of the house and onto the sand. From water sports such as kayaking and fishing to beautiful pet-friendly beaches, hikes and wildlife adventures, we challenge you to be bored in San Simeon.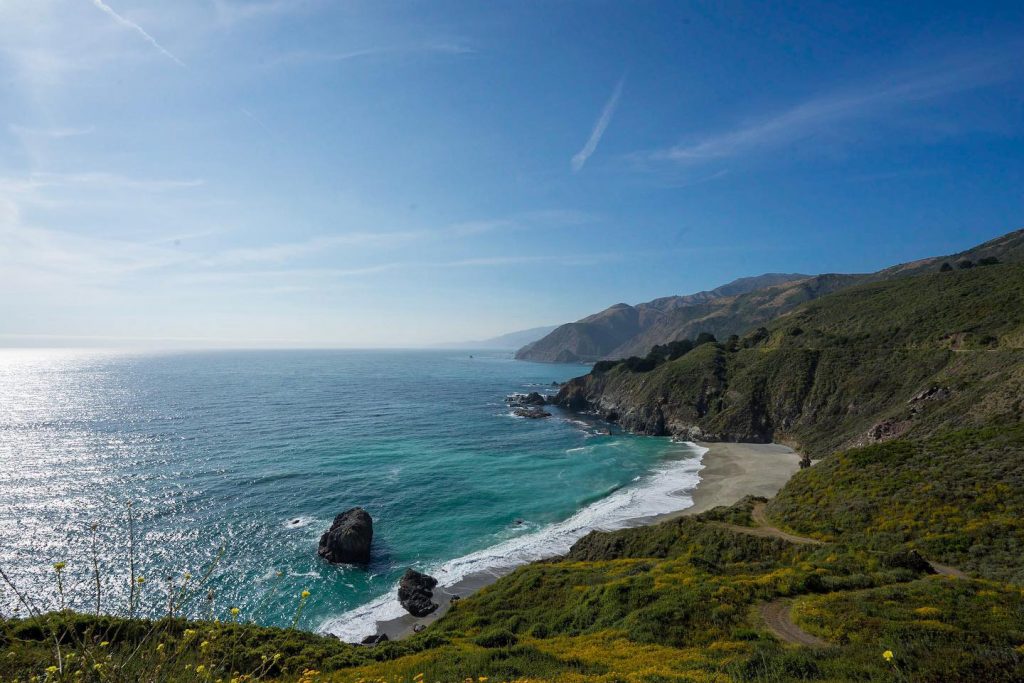 Kayak on the Coast
Indulge in the serene beauty of San Simeon as you glide through turquoise waters along the Central Coast. Whether you are a novice looking for a peaceful afternoon activity or an advanced kayaker seeking an adventure, kayaking is a great way to enjoy San Simeon's beauty from a new perspective. Come connect with nature, enjoy the beautiful weather and observe local wildlife along the way.
Grab a Reel
If you are a fan of saltwater fishing, San Simeon will quickly have you hooked. Stay on land for surfperch and white croaker or venture offshore for cabezon, lingcod and rockfish. With the many year-round options, you are sure to find something you enjoy. Pier, surf and creek fishing are all popular and offer unique experiences no matter your experience level. The San Simeon Pier is a favorite location because it requires no license, allowing for a perfect outdoor family activity. 
Beachgoin', Beachcombin'
San Simeon has numerous beaches ready for you to explore. The many coves and inlets gather some of the best driftwood along the coast. W.R. Hearst Memorial State Beach is a local favorite. Here you will find something for the entire family whether you like sunbathing, walking, swimming, picnicking, fishing or boating. Easily spend the day with convenient access to parking, restrooms, barbeque grill stands and picnic sites. Pico Creek is a nearby haven for those who enjoy long walks on the beach. It offers the best of both worlds, providing easy access to shops and restaurants, but also a fantastic area to comb the beach for driftwood, pebbles and sea glass. 

Tide Pools
Introduce the family to a marine life experience that is unmatched! The San Simeon tide pools allow you to get up close with nature. Head to the beach at low tide (early mornings and afternoons) and you will find pools of water captured in the rocky shores. These tide pools are teeming with aquatic life to be observed. Here you will find fish, crabs, saltwater mussels, clams, starfish, snails, sea anemones and more. An opportunity for education and exploration, this is an activity the whole family can enjoy. Remember to respect the sea life and explore with your eyes only. Experience this natural aquarium before the tide comes back up! 
Mother Earth's Zoo
Skip the zoo, San Simeon allows you to observe a diverse selection of animals in their natural environments. Grab your binoculars and explore one of the many local trails and lookouts. If you are hoping to see elephant seals, there is no better place in the world than Piedras Blancas Rookery to watch these massive creatures year-round. The elephant seals share the water with around 34 species of marine mammals. Keep your eyes on the horizon and you may also spot sea otters, dolphins, blue whales, gray whales, humpback whales and orcas off the coast. Besides being home to bountiful marine life and prime bird watching, don't be surprised to see zebras and elk as you travel along Highway 1.
Pet-Friendly Adventures
Prefer your pet to people? San Simeon is the perfect place for you and your four-legged friend! Thanks to pet-friendly accommodations, beaches, restaurants and wineries, no one has to miss out on the fun. Take your pet to one of three beaches so they can dip their paws in the coastal waters or explore one of the many nearby trails. With so many options, your pet is sure to enjoy your stay at San Simeon just as much as you. Remember, your pet should remain on-leash unless signage notes otherwise.